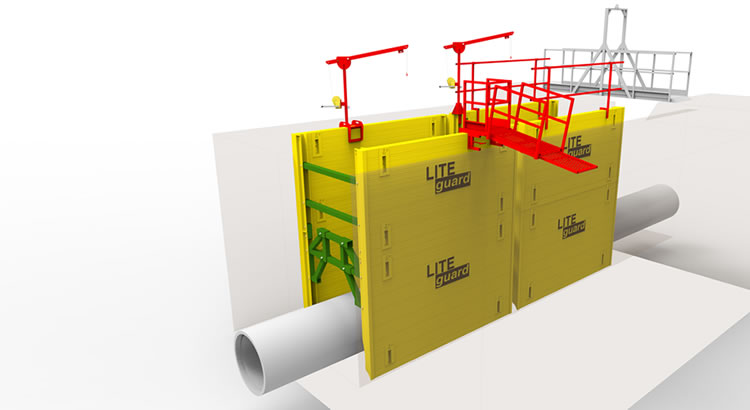 LITE guard Trench Shields... don't go down without them!
WE ARE SPECIALISTS IN TRENCH SHIELDS, TRENCH SHORING, EXCAVATION SHORING, MANHOLE BOXES & SHIELDS, ALUMINIUM SHIELDS / SOLDIER SETS,  ACCESS PLATFORMS, TRENCH BRIDGES, HAND RAILS AND TRENCH PROTECTION PRODUCTS!
LITE guard aluminium trench shields are in many cases structurally stronger than steel when it comes to the working loads of a trench collapse. LITE guard meets all the safety requirements of the Australian/New Zealand standard AS 4744.1-200, British/European standard BS.EN 13331.1 & 13331.2 and American standard OSHA Sub Part P
As safety on the work site is always paramount LITE guard has designed an extensive range of trench shoring products and accessories to designed to make working in and around trenches safer and easier. As we say at LITE guard "Don't go down without them!"
The range of LITE guard aluminium trench shields keeps growing now adding the City box rated at 30kPa to the fleet and also the 2400L x 3600 H bell hole box with built in work platforms and high clear spreader bars rated at 50kPa.
LITE guard have the capability to make unique one off shields from their propriety extrusions, eliminating a lot of engineering for one off jobs.
TEMPORARY WORKS DESIGNS
LITE guard have an in house engineer for temporary works designs for all types of trench shoring, this service is available for contractors with their own shoring.
LITE guard Trench Shields Strong in US Testing
Our LITE guard trench shields showed their strength under testing in the USA by our North American Manufacturer and Distributor NTS. When the trench shields were placed under a 80 tonne load of steel road plates the average deflection on the panels was only 65mm!
LITE guard Trench Shoring in the UK
Our LITE guard trench shields an accessories are also available in the UK and manufactured under license to meet our stringent standards. For more on our range of Shields and other Trench Shoring products available in the UK check out LITE guard UK.
Latest News
Starting Next month All LITE guard shield panels will have a QR code sticker on them.
All a contractor wiil have to do is scan the QR code with their smart phone to go straight to the list of safe use manuels for all LITE guard trench shields.
So when the Safety Officers ask for the Safe Use Manual on site a contractor will be able to load them up on thier phone. Saving them a lot of hassles.